NewZoo has published lists of esports & gaming trend for 2019
Esports Wizard has published 7 of the upcoming big changes to the gaming industry
Some industry-changing developments are anticipated in 2019, including change in the digital stores space, competitive scene, and partnerships
NewZoo, an intelligence firm, has put together a list of trends for the esports, gaming and mobile industries in 2019. From intensifying game store wars to the increased popularity of mobile esports, 2019 will be a good one for the inter-connected industries of gaming
NewZoo's Trends Predictions for 2019
NewZoo has posted an extensive list of the most likely developments in the gaming and competitive video gaming industries in 2019, including mobile. According to the intelligence firm, the gaming industry will come close to hitting $150 billion in total revenue. China will see fewer gaming titles which will directly impact the growth potential this year.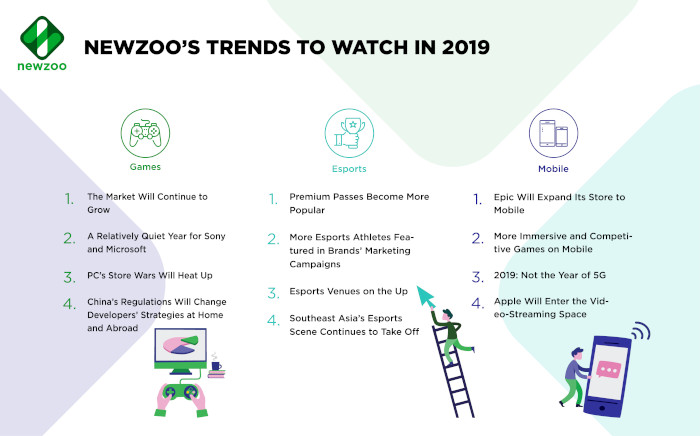 The recent introduction of the Ethics Game Committee in China will pose an additional challenge to publishers and developers who want to launch their products in the country. It would take additional efforts for companies to launch a separate title ready for the Chinese market, which may not always be in the developers' best financial interest.
#1 Esports Will Begin to Monetize Better through Viewership
Competitive formats are finally finding a way to monetize better on the popularity of esports, taking their cue from mainstream events. Premium Passes allowing fans to watch behind-the-scenes coverage will become an important source of revenue in 2019.
In 2018, the Overwatch League started experimenting with this format, allowing fans to watch additional footage on Twitch. Meanwhile, Valve has used its own Premium Passes to generate more money for the International Dota 2 Championships prize pool. Other companies are also positioning themselves better to offer exclusive video content to fans. Some of the names preparing to put an extra effort into this include:
ESL
DreamHack
PGL
Face It

It's unlikely that streaming esports events will ever become a paid service, but it might be so for exclusive content and an early access to broadcasts.

#2 Esports Athletes Sign Up Branding Partnerships

In 2019, we will see more athletes become the face of non-endemic brands, similar to the partnerships between RNG's Uzi and Nike, and Ramzes666 and Gillette. NewZoo also mentioned Tyler "Ninja" Blevins, the Fortnite legend, as an example, with Ninja already supporting a Samsung campaign.

Even smaller teams that have good exposure can benefit immensely from partnering up with companies interested in backing teams to boost awareness. Mercedes-Benz, a carmaker, has signed up with the entire RNG roster. KFC is also in "jersey partnership" with the Chinese powerhouse.





As individual athletes raise to prominence, however, brands will also seek to strike individual partnerships with them.

#3 More Esports Venues Will Open Doors in 2019

The popularity of the Overwatch League (OWL) has come with many local partnerships and arenas. The OWL is built on the premise that competitions will take place locally around the world, from Las Vegas to Seoul. The League of Legends Professional League is also shifting to a model whereby teams will play at home turf against guest teams.

Colorado Springs to Welcome the 3rd Esports Arena in the U.S.

The HyperX Esports Arena in Las Vegas is one of the best examples of a multi-purpose esports facility in 2018. Colorado Springs is also planning to open a new arena near Walmart, and Allied Esports is pushing ahead with an affiliate esports venue program.

#4 Southeast Asia (SEA) to Expand Rapidly

Southeast Asia is proving to be a particularly lucrative market for esports in its entirety. The region has seen a number of major competitions in recent past. The Kuala Dota 2 Major was held in Malaysia and Acer, a PC hardware maker, is sponsoring a series of Dota 2 and PlayerUnknown's Battlegrounds competitions.





Malaysia alone has a number of distinguished organizations, such as Geek Fam which made a big splash in 2018 and are only set to expand their operations in 2019. Razer, a lifestyle brand and developer of series of state-of-the-art gaming products, is also pushing ahead with heavy financial investment in the region.

According to NewZoo, the esports audience in Southeast Asia will reach 31.9 million in 2019. Mainstream brands will also start entering partnerships with esports units and even consider launching their independent competitive video gaming arms.

#5 Collegiate Esports Will Be Even Bigger

Collegiate esports is just starting out in the United States but already over 100 schools have partnered with The National Association of Collegiate Esports (NACE), the segment's governing institution. Institutions of higher learning are now actively developing their varsity programs and recruiting talented esports student.

Colleges will focus not only on adding individuals who excel at playing video games competitively, but also those who have a desire to develop the industry and make a career in esports as managers, couches, content creators, and more.

In Malaysia, the government is using esports to incentivize young people to pick up computer sciences, although significant funds have bee allocated to pure video gaming for 2019. The Malaysian government invested $2.4 million so far for 2019, backed by another $2.4 from gaming lifestyle brand Razer.

#6 Epic Games Will Bring Its Game Store to Mobile

NewZoo estimates that Epic Games will seek to avoid using the services of Google Play in 2019. The publisher has already successfully released its mobile titles for Android (Fortnite) without having to rely on Google's established marketplace.





Similarly, Epic Games is taking on the game stores of established companies, such as Valve. Epic Games' own store will come with a revenue-split which will benefit developers more, thus allowing indie studios to choose Epic Games own digital store over that of Valve and others.

If Epic Games is successful in attracting mobile game developers, NewZoo's Jelle Kooistra predicts that this " could mark the beginning of the end for app stores."

#7 Mobile Esports & Games are Becoming Far More Immersive

The mobile esports scene will most likely develop with games becoming more immersive and engaging, NewZoo predicts. Blizzard has said that it would release each of its games for mobile and there are already steadfast followings around games such as Clash Royale, Arena of Valor, and understandably – the mobile versions of PlayerUnknown's Battlegrounds (PUBG) and Fortnite.

Southeast Asia and China are particularly susceptible to mobile gaming, but with the latest restrictions in the Chinese market, SEA could become the main focus of mobile and gmaing developers in Asia. Titles such as Hearthstone and Mobile Legends: Bang Bang are already popular there, and the community is anticipating less esports-focused games such as Diablo Immortal with utmost interest.

Summary

Article Name

NewZoo Reveals Gaming & Esports Trends for 2019

Description

NewZoo has published a list of esports and gaming trends to expect in 2019 - from the raise of partnerships between athletes and companies to the expansion of the mobile segment.

Author

Publisher Name

Publisher Logo