Fortnite becomes competitive WSOE event
$100,000 to be divvied up between pros & amateurs
50 non-professional player will enter the 100-field of competitors
Fortnite's popularity has been staggering to the point where the game's been registering millions of concurrent players and millions of dollars in monthly revenue. The game is now going to be featured in the World Showdown of Esports (WSOE) as a competitive title.
Fortnite's Competitive Future as Part of the WSOE
Fortnite: Battle Royale maintains an outstanding player base and has already vowed more money in prizing pools than any other title that enjoys a vibrant competitive scene. And yet, Fortnite is far from calling itself an all-out esports game.
It's easy to play, it's enjoyable and it has an easy learning curve which make it even more easily accommodating. Tyler "Ninja" Blevins has become a millionaire out of his exploits in the game. When your correspondent was walking down to snap up groceries he ran into youngsters with dyed hair and bands tied across the forehead. A tell-tale sign of a Ninja follower.
ANNOUNCING the next installment of our prestigious tournament series, #WSOE 3 Featuring #Fortnite!! This $100,000 event will take place December 30th in Manhattan Beach, CA. For the first time, you will be able to attend as part of a live audience! ???https://t.co/A0UX4ggTOX pic.twitter.com/iaA7jZKXvY

— WSOE (@WSOE) December 22, 2018
And so, the World Showdown of Esports (WSOE) is officially adding Fortnite as an official event to its competitive series. The format will feature 100 players trying to square I out on the vast Fortnite map.
With the newly set-up OGN arena, the third edition of the WSOE will take off on December 30 – a proper way to celebrate the New Year, more or less. The WSOE will also take the OGN arena for a quick spin before the upcoming National PUBG League, a new initiative intended at popularizing the game even further.
This is not too difficult to imagine now that PUBG has been gaining traction again, although far from Fortnite's own enviable achievements.
WSOE 3's Fortnite event will come along with $100,000 in cash money and the field of competitors will consist of both professionals and aspiring players who want to carve a name for themselves.
After all, the first Fortnite competition hosted with Ninja in the Fortnite saw the internet sensation crumble before an anonymous college student.
The list of contestants is already impressive, with some of the most grossing organizations in the world of esports already fielding their players. The organizations partaking in the event include players form:
Cloud9
Team SoloMid
NRG Espots
Ghost Gaming
OpTic Gaming
FlyQuest
G2 Esports
GankStars
Team Vitality
The pool of competitive players is quite vast, although 50 more people are coming from the open qualifiers that will be taking place on December 27. Richard Lewis, a famed esports journalist and director at ESP Gaming, will also be at the venue alongside a number of casters.
The World Showdown of Esports (WSOE) is an ESPN-backed initiative found in July, 2018. The event is just one of the many excellent competitions that have been shaping up and diversifying the landscape of esports formats outside the major tournaments backed by developers.
Summary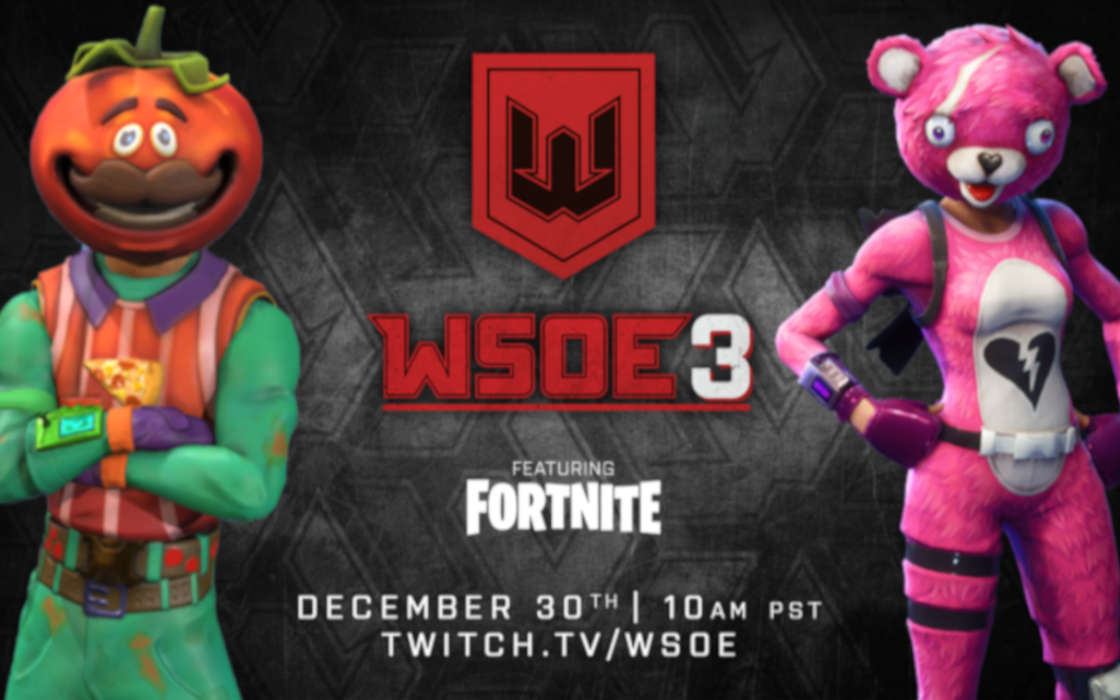 Article Name
WSOE Adds $100,000 Fortnite Event for Amateurs and Pros
Description
The World Showdown of Esports has added a Fortnite event with a prize pool of $100,000. Amateurs and professional competitors will get a chance at the prize.
Author
Publisher Name
Publisher Logo