As the League of Legends World Championship rages on, a team of tech-savvy wizzes are sitting down to develop a platform that allows viewers to track in-game events as they transpire, and place bets on the outcomes. As a result, it's much easier to engage with the live tournaments, and there's no longer any need to fuss around to find match results. Camelot.ai is a simple, slick, and immensely exciting way to find out what you need to know and have more fun while you're at it.
Following Esports, Made Simple by Camelot
Camelot.ai was released in August and the Android version followed up just days ago on October 19. If are a casual viewer of any esports, you may quickly get confused about where to follow the latest bits of action.
Camelot.ai consists of a team of creative minds from Google, Quora, Jane Street, and Citade who have just released the advanced beta of the platform that allows you be up to date with esports and place a quick wager with a mock-up currency.
The platform presently provides every fan and casual viewer with a roadmap to the largest League of Legends competition, World Championship, and a more fun and interactive way to share their predictions.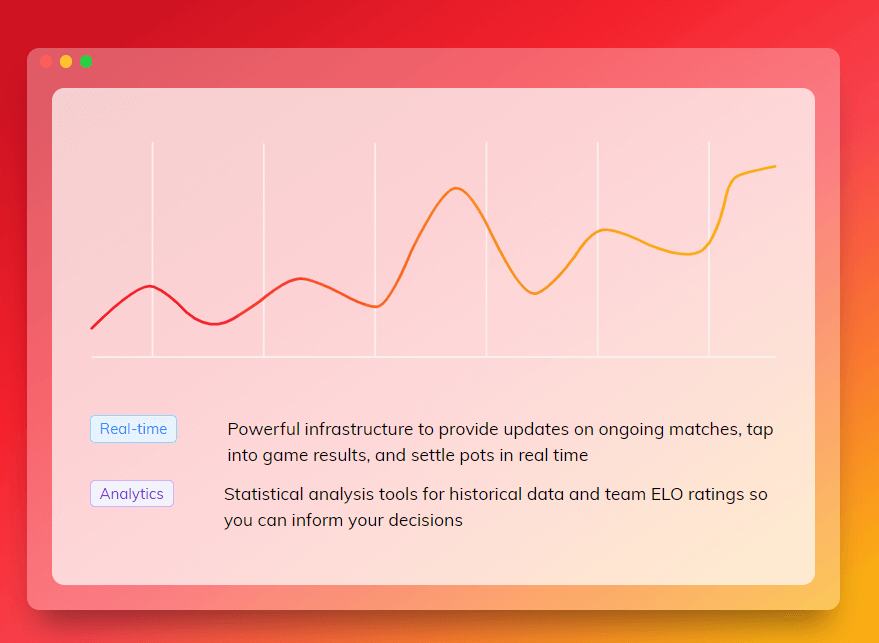 Camelot.ai is definitely not a small undertaking. Released just days ago, the Discord bot allows you to request the game and match stats that you need in real time, owing to what the creators describe as "powerful infrastructure" that helps you obtain the latest updates and follow the events live.
The platform also knows how to channel the available data and distil it for later perusal, as you can request statistically relevant bits of info in the matter of split seconds.
Camelot uses virtual credits which you can amass and show off after you've outsmarted your friends, whether that's on the app's global leaderboard or within private Camelot friend groups, where a "taunt" feature allows you to call friends out on their bets. – Camelot Co-founder Melissa Yu
Although the app only offers fake money betting right now, the creators have said that they're working on releasing an option to bet with real money in the near future, Ms. Melissa added later in our conversation.
Bragging rights is the second part of the equation, as you can place wagers on the outcomes of matches using Camelot's in-app currency.
As per the official message of the website, Camelot allows you to stay up-to-date and always be on point when it comes to imminent tournaments as well as quickly round up your knowledge on any game that you have missed.
And if you just need to look up a piece of data quickly, you can benefit from the records Camelot has kept. All you need to do is drop a ".help" command in the channel and a list of all available commands will emerge.
Going Android and Adding Esports Titles
At first, Camelot kicked off as an iOS-only app, but thanks to the suggestions of its users, it has since released both a Discord bot and an Android version of the app, the company most recently revealed in a Facebook post. While the limelight is still on League of Legends, the developers have shared via social media and community boards that they are moving on other titles as well.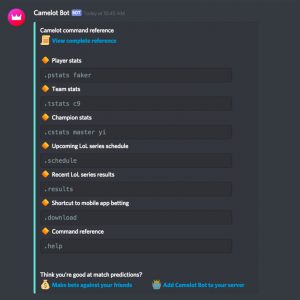 Officially, Camelot lists three noteworthy titles on their website beyond League of Legends — namely, Dota 2, Overwatch, and Fortnite.
Though the company has only been online for several days now, providing the full functionality of its product for the World Championships, the team has already secured sufficient funding.
According to Crunchbase, the platform has already raised $120,000 in capital and Camelot.ai themselves share on their website that the same investors that have contributed to such start-ups as Airbnb and Dropbox have also endorsed Camelot.
While the application is still in its beta stage of development, the team behind Camelot have high hopes for it. Even at first glance, Camelot provides tremendous value to esports fans by allowing everyone to stay up to date with current events at a simple click, without having to navigate confusing communities.
Camelot may advertise itself as simple, but underneath the slick exterior churns a complicated engine that may just change how we follow esports.
Summary
Article Name
Camelot.ai Shifts in Full Beta, Adds Android and Discord
Description
Camelot.ai has released and added their Discord esports bot and have introduced an Android twin to the iOS app.
Author
Publisher Name
Publisher Logo