Photo Credit: PSG Esports Flickr

In a comprehensive article about esports companies, Forbes contributors Cristina Settimi and Mike Ozanian have put together a list of the world's most valuable esports teams while analyzing the industry in its entirety.
Cloud9 Leads the Way as the Richest Esports Team
Just a few hours ago, Forbes published its take on the world's most valuable esports teams, presenting a list of 12 organizations and posting detailed break-down of their estimated value, expected revenues, teams, and number of players as well as the titles the aforementioned powerhouses compete in.
Not surprisingly, Cloud9 topped the chart, which comes shortly after the company had concluded a $50-million series B funding deal, bringing the total value of the organization to 310 million according to Forbes' latest available data.
As a professional organization, Forbes stipulated that Cloud9 owes its success to maintaining a crop of talented players across multiple gaming titles, which gave them sufficient exposure and funding opportunities, and not least of all – prize money claimed from tournaments.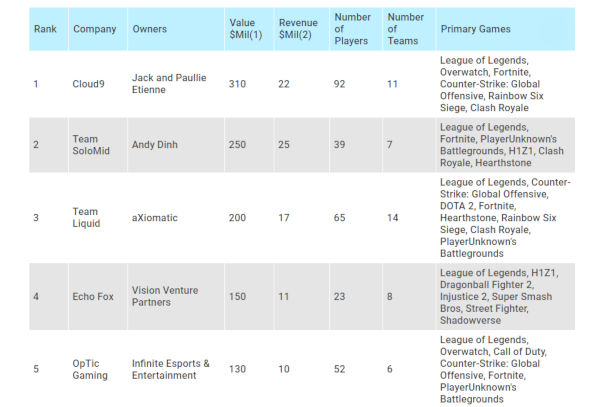 Cloud9 has been successful in maintaining a strong presence in League of Legends (LoL) and Dota 2, along with fielding teams in Clash Royale and Fortnite. Circling back to LoL, Cloud9 has won the right to attend the World Championships in six consecutive years, which Forbes cites to be a record achievement.
Second in the chart are Team SoloMid (TSM) with estimated $250 million in overall value. The company was founded in 2009 as a LoL community, which quickly grew to the world's most loved place to stop and discuss the game, with the makings of a future esports powerhouse being quite visible even then.
According to Forbes, TSM are "cash-flow positive", and they have been the organization to win most of their events across North America.
TSM have also been adding boldly to their offer, signing notable Fortnite professional Ali "Myth" Kabbani to their newly-minted roster. Over $1.5 million have been invested in a special 4,300-sqare-foot gaming house dedicated to the organization's Fortnite squad alone. With one third of Cloud9's players, TSM are still $3 million ahead of the team in terms of revenue.
100Thieves Adds Drake and Scooter Braun as Co-owners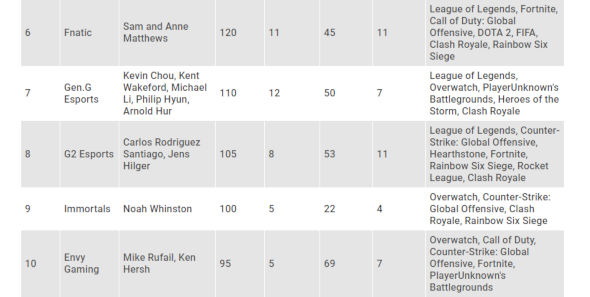 We want to draw your attention to Gen.G Esports who are fielding players across multiple noteworthy titles, including Clash Royale and Heroes of the Storm. The creation of the Clash Royale squad coincided with the re-branding of the team from formerly KSV Esports to Gen.G in May, 2018. The organization commands an extensive player base and they have 7 active competing teams and Gen. G are worth $110 million with estimated $12 million in revenue.

While lifestyle, apparel, and esports company 100Thieves may not have been at the top of the charts, the organization has positioned itself brilliantly in terms of a business model. In a press release from today, October 23, the company announced that Drake and Scooter Braun joining as co-owners. 100Thieves has just recently restored their Call of Duty roster, planning a return to the competitive scene in Black Ops 4.
Summary
Article Name
Forbes has revealed of the world's 12 richest esports organization, citing important metrics, such as net worth and revenue.
Description
Forbes has revealed of the world's 12 richest esports organization, citing important metrics, such as net worth and revenue.
Author
Publisher Name
Publisher Logo