Respected media outlet, CBSNews, has prepared an extensive coverage broaching the topic of burnout in video gaming. Why are 20-somethings retiring from professional gaming at a time when their peers are only starting their life careers?
CBSNews Examines Esports Burnout and the Dangers of the Profession
In a newly-published article, CBSNews has outlined the dangerous that persist in competitive video gaming, ahead of the release of a featured movie probing the dangers of the glamorous pastime. CBSN will air a documentary on December 23, 2018, entitles "Esports: The Price of the Grind," which will touch on the little-discussed fact of burnout and the real physical and mental consequences for professional gamers.
Previously perceived as a weakness and called out by industry insiders as "a made-up condition", such comments no longer sit lightly with the community or the hosts.
The world of esports has been putting an increasing mental and physical strain on competitors, as demonstrated by the Overwatch League (OWL) where players have been reporting burnout and aversion to playing back-to-back games as it was nearly impossible to cope with the amount of pressure.
With teams ending up playing and training for 72 hours on end, losses and poor performance has been commonplace. CBSNews has sought the reasons behind the competitors' eagerness to keep playing over prolonged session (usually between 12-14 hours) at the expense of their health.
Money was the main motivator, but also the fact that organizations had huge expectations from their gamers. The report established that Valve's Dota 2 has alone dished out $38 million in prizing money in 2017. In the account of professional players, the opportunities to turn a buck were quite abundant, with Yiliang (Peter) Peng confirming this for the news outlet.
Behavioral specialists and psychologists have also spoken to CBSNews, seeking to explain the seriousness of burnout among players. According to Doug Gardner, the top man in charge of burnout with Immortals, a famous esports outfit, players have often looked "emaciated and exhausted", trying to achieve different results that were beyond their momentary capabilities due to tiredness.
Overwatch as the Clear Example
When Activision Blizzard started developing the league model, they wanted to create a sort of competition inspired by mainstream sporting bodies and practices. And it would have all been fine was it for the small wrinkle that esports athletes can go on for hours after their mainstream counterparts have called it a day.
The effort invested in video gaming is difficult and the downsides of the body are not immediately perceived. Indy "Space" Harpen has graduated from high-school and was immediately snapped up by Los Angeles Valiant, one of the most noteworthy franchises in the Overwatch League (OWL).
Meanwhile, collegiate and high-school esports are also expanding at a rapid clip. So far, 100 schools have signed up to be part of the North American Scholastic Esports Federation (NASEF) and the North American Collegiate Esports (NACE) organization is also working with big game makers, such as Riot Games and Hi-Rez studios.
Summary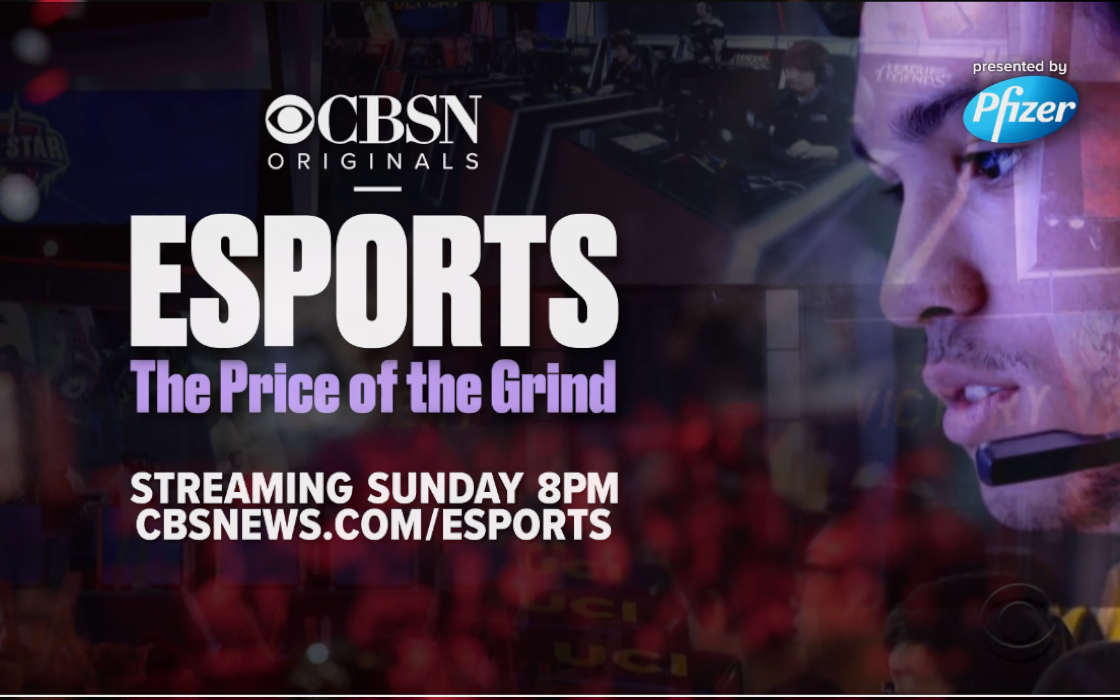 Article Name
CBSN to Air Documentary about Burnount in Esports
Description
CBSN has shot a documentary entitled "Esports: The Price of the Grind," which will debut on December 23, 2018, revealing the dangers of being an esports pro.
Author
Publisher Name
Publisher Logo