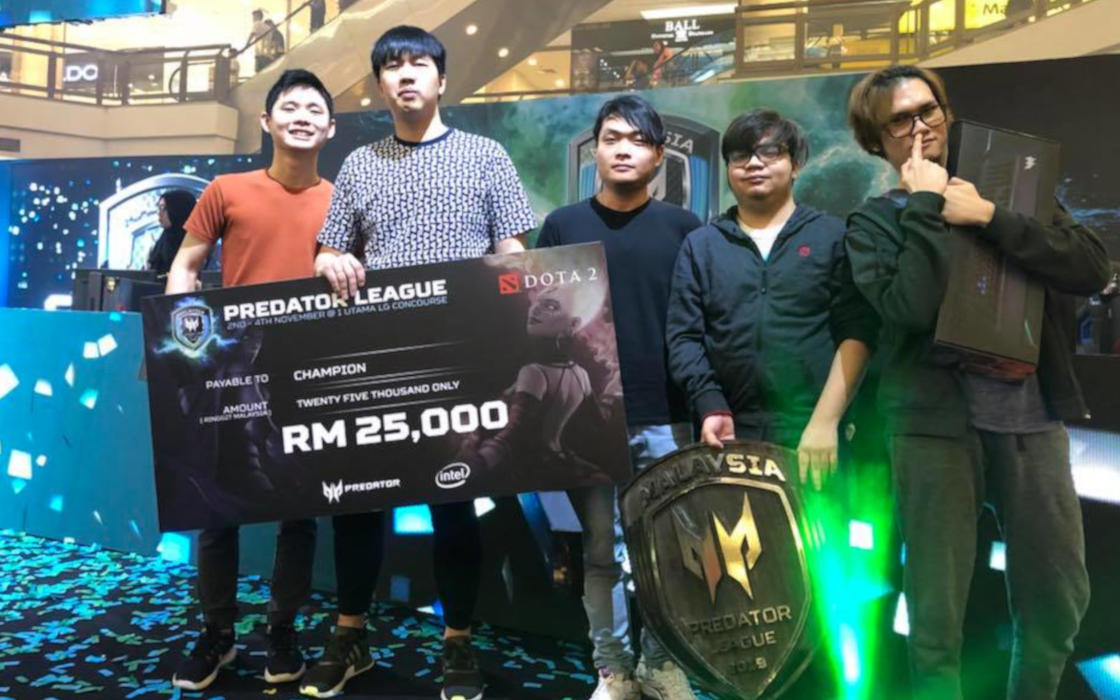 Photo Credit: Lotac's official Facebook.
The Predator League Dota 2 grand finals came to a closure, with Lotac forging ahead to the next big competitive venue in Bangkok, Thailand in 2019, having defeated Team High Ground after almost five hours of intense gaming.
Lotac to Attend Bangkok in 2019
One Utama, LG Concourse, Petaling Jaya saw 16 teams clash against one another at the weekend in a bid to secure first place in the Predator League Dota 2 finals. Following the first day of rapid eliminations, four teams made it to the final stages of the event.
The day began with WG Unity facing Team Lagenda in the Lower Bracket, with the teams trying to progress to the semi-finals of the group. After an intense BO3, Team Lagenda managed to secure victory and faced Lotac next.
Congratulations to Acer Predator League Malaysia Final Champion – Lotac Dota 2!#Acer #Predator #MET #Esports

Posted by MET Malaysia on Sunday, November 4, 2018
It was the first game in the day for Lotac and they appeared to be in perfect form, blasting their way through the competition. However, not everything was quite straightforward for Lotac. Game 1 against Team Lagendawas pretty evenly matched, until Lotac took a small advantage after the 30-minute mark, allowing them to eventually subdue their opponents.
In the second game, Lagenda seemed to be playing quite offensively, scoring kill after kill, with Lotac kept at an eight-or-so-points disadvantage, but still managing to amass more gold than their opponents. A reverse sweep saw Lotac progress to the top again and secure a spot at the finals.
The true challenge, though was just about to begin. Lotac was about to face the same opponent, Team Highground, who were the reason that they ended up in the Lower Bracket in the first place.
The Game Begins
Team Highground (HG) plunged into Game 1 with a solid and well-rounded pick, featuring Storm Spirit, Mirana and Enigma which were continuously focused and locked down by Lotac's crowd control (CC)-heavy team composition.
Lotac responded well with Ogre, Bane and Lina, fielding Weaver and Morphling as their carries and eventually snowballing to the point where they finally broke through the defenses of their opponents and managed to emerge victorious from game one and thus unsettling the balance with Team Lagenda now realizing that their opponents had all intentions to amend the score from the group stage.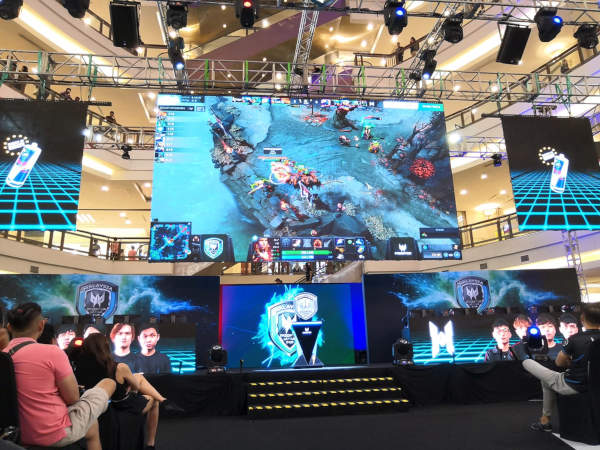 Game 2 started with a double kill for "ChYuan" who ate through Alchemist and Bat Rider in the middle lane, aided by Rhasta played by HG's "eyyou". That seemed to be the only silver lining in the game, though, because Alchemist quickly turned to be a major nuisance, with Team Highground quickly concluding the game and tying with Lotac.
ACER Predator League Dota 2 Malaysia Grand Final Day 3

ACER Predator League Malaysia Grand Final Day 3 is now Live!Watch the teams fight their way to be the Acer Predator League Dota 2 Champion.There will be an online lucky draw for all the online viewers! Just like and share the livestream and stand a chance to win amazing lucky draws. Dont forget to tag your friends so they can stand a chance to win it too. We will be broadcasting this tournament on Facebook and Twitch. Acer Predator League shows their appreciation for the online viewers support with these special online give away prizes.- Nitro 5 Marvel's Avengers Infinity War Thanos Edition Laptop- The KL Major Anceint Ticket (1 pair)- Predator Movie Limited Edition Mousepad x5#ACERpredator #ACERMY #AcerPredatorLeagueMY #MET #esports

Posted by MET Malaysia on Sunday, November 4, 2018
The next and third game was important for both teams, with Lotac returning on Morphling played by "Raven" who did outstanding job in Game 1. HG responded by picking the all fearsome Doom for his namesake ability which bode no good for Morphling and complemented their offense with a Spectre pick.
Starting off well and securing a few kills for Spectre, HG over-extended early into the game, which was the turning point with Lotac starting to build their own momentum, with the game concluding before the 40-minute mark.
So, it was down to Game 4 into the series. HG attempted to run Rubick in the middle lane but that cost them cost them early, and the team again started to lose their pace while Lotac continued with their march to victory, destroying the Throne in the 34-minute and winning the Predator League grand finals for Dota 2.