WoW Classic release date revealed
Closed beta confirmed
High-profile streamers already playing

The along-awaited release date of World of Warcraft Classic has been finally announced. Blizzard will be returning to the roots of the game back in August 27, 2019.
WoW Classic Releases on August 27, 2019
Blizzard's 15-year-old Massive Multiplayer Online Role-Playing Game (MMORPG) World of Warcraft will be returning back to its roots on August 27, 2019. The company will be launching a fleet of vanilla servers that will support the original version of the game, before any expansion came into play.
Amid confusion and rumors, Blizzard have decided to finally give the public concrete dates so days off work can be planned accordingly. Jesting aside, a large portion of the population returning to play WoW Classic will now be in their late 20s or even 30s.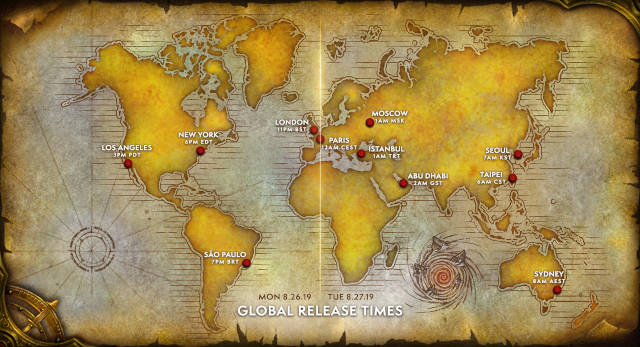 This means families and responsibilities that cannot be consolidated with the desire to spend hours on end playing a video game. In light of this, Blizzard has released the necessary information to make preparations. Here are the main take-aways:
Release Date:August 27, 2019
Beta Availability: Subscribers only
Patch version: 1.12.1
Global release timer: Check here

The game will feature a beta test, which will be available to a select number of players who have been testing the game, reporting on forums and overall shown deeper understanding of WoW mechanics. Blizzard simply explained that only "dedicated players" would meet the criteria for the beta testing.
What We Know About the WoW Classic Beta
The WoW Beta would allow players to play all though level 30 and explore various areas. Blizzard would expect from participants to offer useful feedback that can help the developing team troubleshoot any issues that may be impeding normal play.
Although every subscriber can apply, only a handful will be allowed to participate in the beta. Blizzard also plans on releasing a few stress tests along the way to see whether the servers can handle the pressure. There have been many speculations as to how many people would tune in to play.
Streamer Kargoz has been invited to test the game, so we now have a glimpse at what to expect. Kargoz's streams are also highly-efficient as they teach basic levelling techniques, which comes very handy in a game that is notorious for the time it takes to hit level 60.
Ideally, you can spend 100 hours in getting your toon up to 60, but less experienced players could easily need as many as 150 or more hours of gameplay.
WoW Classic is coming out on August 27, 2019, so plan your holidays accordingly.
Summary
Article Name
WoW Classic Release Date Confirmed - August 27, 2019
Description
World of Warcraft Classic will be released on August 27, 2019, Blizzard has confirmed.
Author
Publisher Name
Publisher Logo