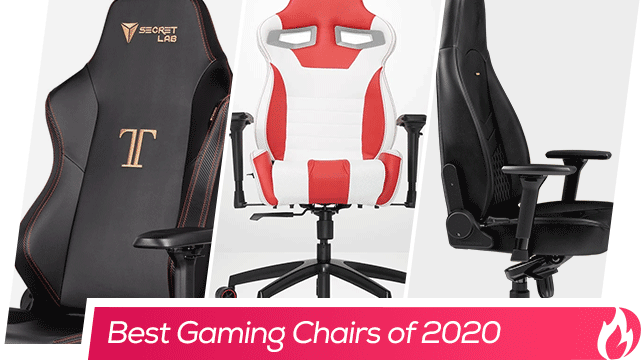 Obtaining the best gaming chair may sound a little excessive at first, but there are actual health benefits to using the best gear possible for sitting and playing. You know how they say that without pain there is no gain?
Well, I agree, but I also see no reason why it should be backpain. A great gaming chair will provide you with the comfort you need to enjoy your sessions more. It will help you improve your posture which will translate into better health and even more rewarding and pleasant gaming.
Crafting the perfect gaming chair is a matter of ergonomics as well as understanding the human body, and the brands I cover today have all gone the distance to consult engineers and medical specialists in building the best gaming chairs possible.
Admittedly, some gaming chairs may look a little too extravagant with their racing aesthetics and garish colors. Some, even stick out in the room like a sore thumb, but don't worry. What matters is how you feel in your gaming chair and so long as your body is relaxed and your back enjoys the soft padding, you should be able to look past the flamboyant colors, and in fact come to love the quirky yet robust design.
TL;DR – Here are the top 10 gaming chairs of 2020:
Without any further ado, I invite you to have a seat.
1. SecretLab Titan 2020 Series
"Fantastic build, quality & easy to assemble"


MATTHEW S.
"Chair was easy to assemble. Super comfortable great ergonomics for longer sessions."


Kyle A.
"Easy to assemble, even for a beginner like me. Very good experience. I can feel my back becoming better."


Leon B.
| | |
| --- | --- |
| Foam Type | SecretLab Cold Cure |
| Frame Construction | Steel |
| Recline | High-grade spring; 85-165 degrees |
| Weight | 35kg |
| Warranty | 5 Years |
| Max Weight | 130kg |
SecretLab is a brand that commits to creating the best gaming experience starting with the hot seat. The company has had quite the success balancing unique aesthetics with great characteristics at an affordable price. The SecretLab Titan 2020 Series is the latest instalment in the company's unending quest to better the gaming experience through leveraging the latest technologies and improvements in the industry.
The Titan 2020 Series has elegant curves and bends and a slightly more conservative design pulling away from the mainstream. The aluminum wheelbase provides sufficient support that will help you remain focused on your gaming. The chair has remarkable resilience to wear and tear and it comes with the SecretLab signature memory foam head pillow.
The gel-lined foam helps players not overheat in those intense sessions that can easily stretch a few hours. The Titan improves on previous iterations by introducing a better lumbar back support adjustable with the help of the side knob.
You can further play around with the armrests, which prove to be quite flexible. You can rotate them in and out, up and down, slide them wider or narrower, depending on your personal preferences.
Speaking of preferences and customization options, you will be happy to find out that SecretLab Titan is also available in several customization options, including Game of Thrones and Batman for just $30 more to the final price.
Take your seat in the best gaming chair for 2020.
---
2. noblechairs ICON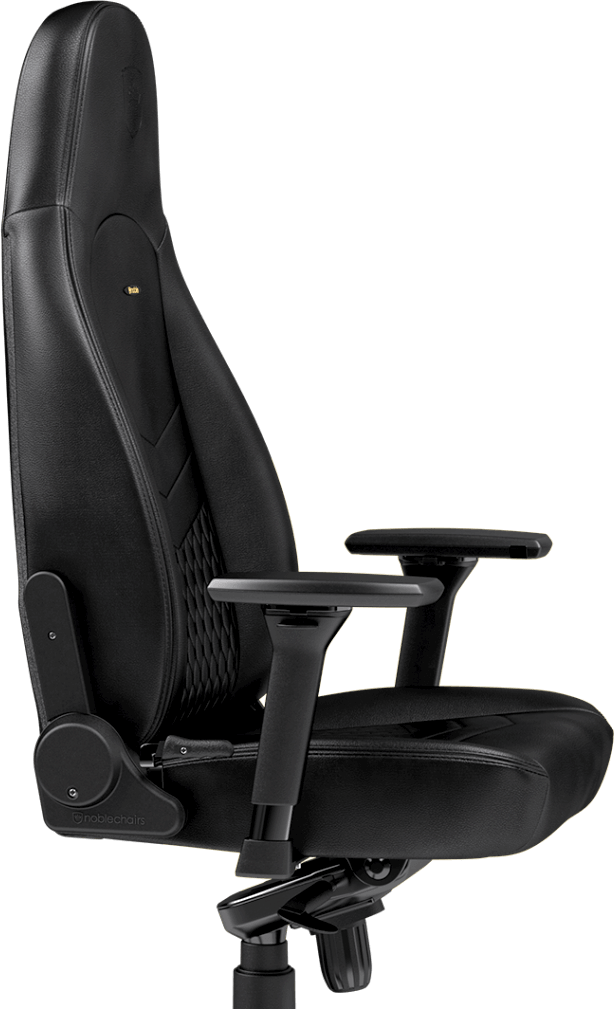 "Bought this as a Christmas gift for my boyfriend and after building it and testing it out I definitely want one of my own."


Jacquie
"Excellent build. Easy to assemble and very sturdy."


Steve
"It has been an immediate improvement in quality of life as my back no longer hurts after a day"


Keith
| | |
| --- | --- |
| Foam Type | Cold Foam |
| Frame Construction | Steel |
| Recline | 90-135 degrees |
| Weight | 28kg |
| Warranty | 5 Years |
| Max Weight | 150kg |
Noblechairs ICON is more than just a name. It's a brand that focuses on an elegant and authentic design game chair design. True to its signature style, noblechairs has bet not on a traditional cockpit-look, but rather, a chair that looks adequate both at your gaming station and in the office. The aluminum base guarantees stability to the rest of the entire steel frame.
ICON balances well on both soft and hard surfaces so you can keep focused on your gaming and not sweat the details. Owing to its highly customizable nature, the ICON gaming chair comes with several different materials, including real leather, pu-leather, nappa leather and vinyl/pu hybrid leather.
Admittedly, without having had experience with this material, it might be a little difficult to tell which one feels best to you. Yet, the high-quality of the make and high-density foam feeling will help you enjoy a pleasant gaming session. To prevent blemishes and make sure the ICON gaming chair keeps you enjoying the same comfort as on the day you first bought it, noblechairs has used deformation resistant cold foam.
ICON will allow you to cool down even in the heat of the moment and keep your body acclimatized and focus uninterrupted. Beyond the firmness of the design, you can expect to find an adjustable overall build, whether that is the seat height or the angle of the backrest.
---
3. Maingear Forma-R Nero

"I have owned 4 or 5 office chairs in the past 28 years that I've been using a computer and the Maingear Forma R Nero is by far the best one."


James
"Just got my chair today and WOW. This chair is everything I had hoped for and more."


Joe Schneider
"The construction of the chair is amazing. It is comfortable and extremely roomy."


June
| | |
| --- | --- |
| Foam Type | Cold Cured Foam |
| Frame Construction | Steel |
| Recline | 90-165 degrees |
| Weight | 57kg |
| Warranty | 5 Years |
| Max Weight | 145.5kg |
Maingear has been in business for 15 years, designing gaming chairs long before they became part of the mainstream and an adequate addition to a gamer's battle station. Forma-R has been built from hand-selected premium materials to guarantee the extra sturdiness of the construction. Yet, the build itself is flexible, allowing players to swivel 360 degrees and lean back a full 180 degrees. The chair relies on an ergonomic design to cater to an audience who are not only looking for a great design, but also functionality and a comfortable experience.
The padding support is great and the leather is soft and supple yet without losing any of its comfort over time. The headrest and lumbar pillows are infused with breathable microfleece memory foam for additional support and a premium feel.
Speaking of the design, the Forma-R Nero focuses on a more traditional gaming chair look, and one you can find in the room of a sworn gamer who doesn't take their gaming lightly and who wants and expects the best quality from their gear.
The chair is covered with faux leather and it features and a steel frame built to last with an alloy base for the necessary sturdiness prolonged gaming sessions necessitate.
---
4. Corsair T3 Rush

"Very comfortable with loads of adjustments, and well made"


Mr. D. Dune
"Really comfy. Can sit in for hours. Would recommend as a gaming chair."


Shaun
"I love it. I feel so comfortable in it, I can sit for hours and work and game"


Will Clark
| | |
| --- | --- |
| Foam Type | Polyurethane Foam (Cold Foam) |
| Frame Construction | Steel |
| Recline | 90-180 degrees |
| Weight | 25kg |
| Warranty | 5 Years |
| Max Weight | 120kg |
Gamers who love to snuggle away in their chair and let the gaming experience engross them in full, the Corsair T3 Rush is the right sort of premium gaming chair to choose. Owing to its breathable soft fabric, you will feel cooled and relaxed playing with your back and neck enjoying the impeccable support you deserve.
The memory foam lumbar pillow is designed to let you rest while gaming and even nod off for quick few minutes there. With a 180-degree recline, it's not at all difficult to imagine that the Corsair T3 Rush has been crafted to allow players to have a relaxing nap as well as enjoy an action-packed session.
Yet, don't worry if you feel that the chair might be treacherously comfortable and help you dose off. The soft fabric and cool gel will help you stay fresh and alert, plowing through your gaming sessions and dishing out virtual justice.
The faux leather works well with the breathable foam and you will definitely have all the comfort you need to hone your in-game skills. You can rest assured that Corsair T3 Rush is one of the smartest and arguably best investment you can make right now.
It's not just about gaming, but a well-rounded experience.
---
5. DXRacer Drifting Series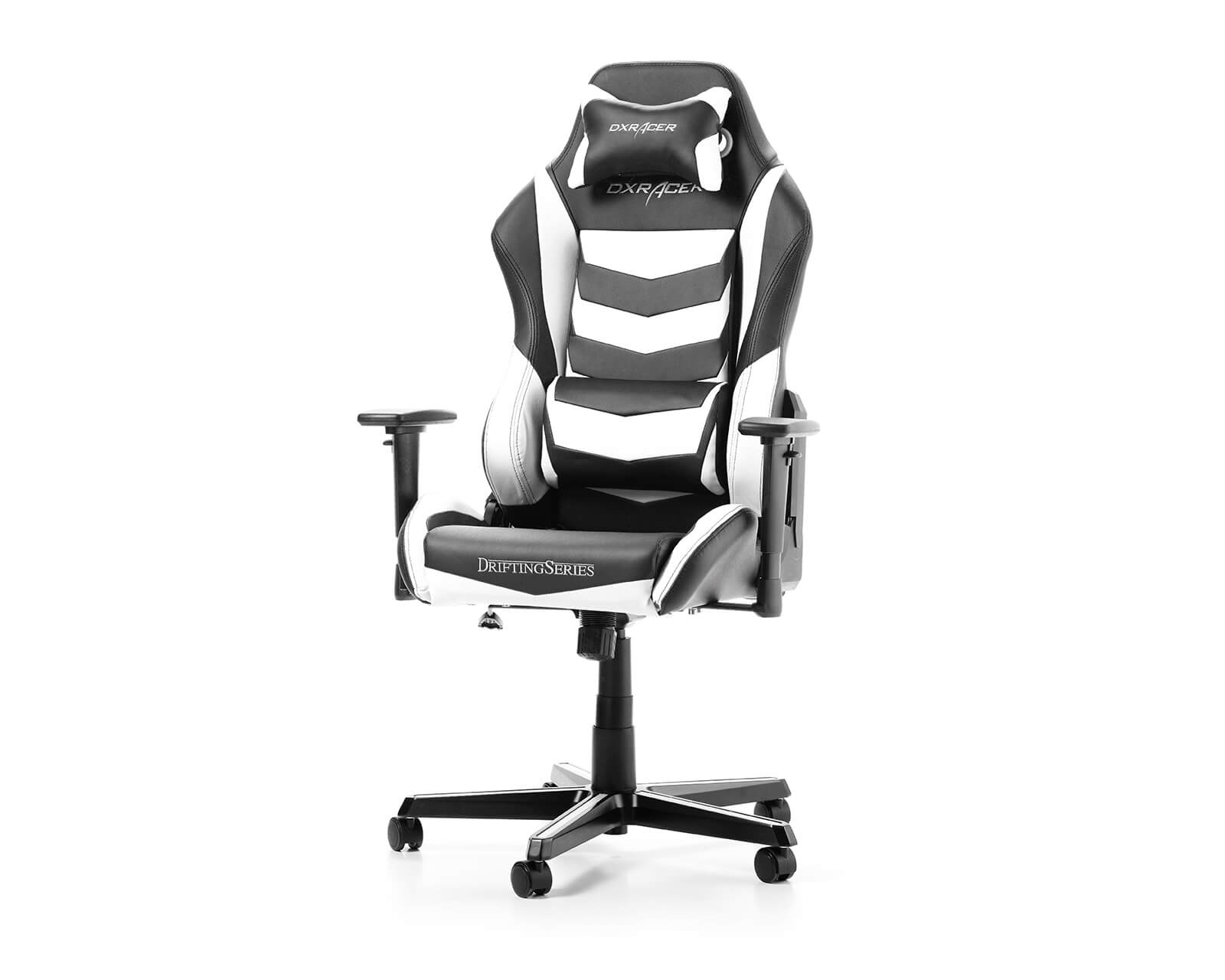 "I assembled two of them by myself, easy job for one person."


Elysium
"I have owned this chair for about a month and a half now and it was worth every penny."


Rick W
"The chair looks ridiculous for someone in their 30s, but the lumbar support is fantastic."


Jonathan Dickson
| | |
| --- | --- |
| Foam Type | Polyurethane Foam (Cold Foam) |
| Frame Construction | Steel |
| Recline | Depends on model |
| Weight | Max 22.9 depending on model variant |
| Warranty | 2 Years |
| Max Weight | 120kg |
The DXRacer Drifting Series is a great gaming chair that supports individuals up to 220 pounds. While the weight limits might be there, you can rely on an experience that stands out. Thanks to its ergonomic design, DXRacer Drifting Series is a worthy investment that will provide you with a comfortable chair for your all-nighters and regular gaming sessions.
You can enjoy a perfect lumbar support cushion and a headrest pillow that can be tilted and adjusted so that every fiber of your body fits into place. The chair is arguably smaller and much lighter than many mainstream competitors out there, but this has not affected its sturdiness and ability to remain firm on the ground without moving an inch when you don't want it to.
The design is a little curvier and more aggressive but the alloy base feels very familiar. Once you sit into the chair you will feel like the chair has sucked you in and you have become one. You don't have to move as much nor worry about your back at all thanks to the quality of the design and execution of the frame.
---
6. Vertagear Racing Series SL4000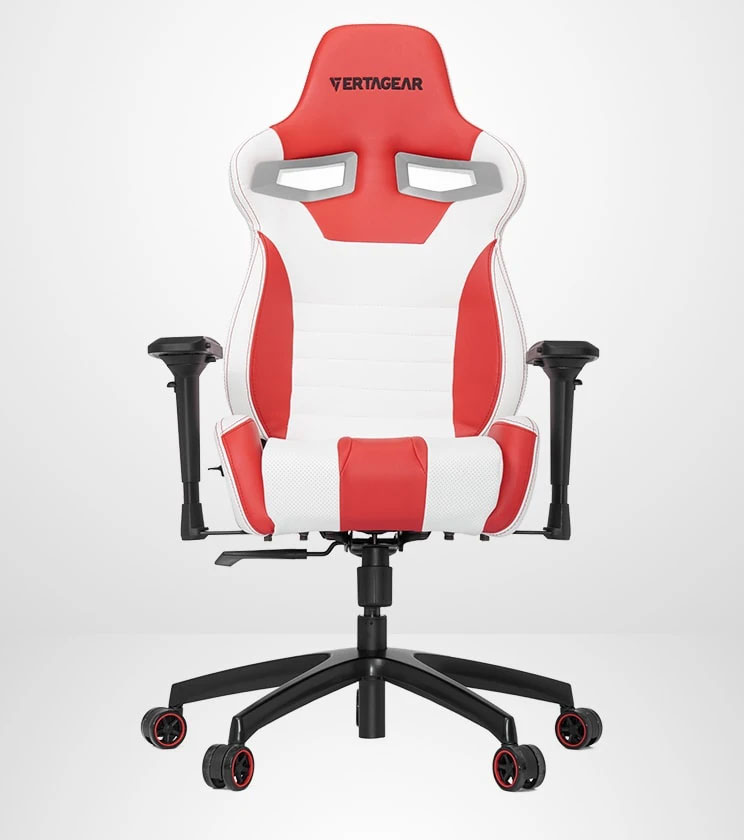 "I love the sleek design beautiful quality"


Matas
"Good quality and not overly difficult to put together."


Graham Hutchins
| | |
| --- | --- |
| Foam Type | Cold Foam |
| Frame Construction | Steel |
| Recline | 90-170 degrees |
| Weight | 25kg |
| Warranty | 2 Years |
| Max Weight | 150kg |
Now, that is a chair that doesn't mind putting on a peacock appearance and intruding a little more in the design of your room. Yet, it has incredible max load supporting up to 330 pounds or 149.68 kilograms to provide you with the sturdiness you expect from your chair.
It's called a racing chair and you will be happy to find the chair adequately prepared to provide you with the comfort need to play simulated races and sports at your own terms. The chair is a great all-rounder, making a great fit for you whether you stream or compete as a professional video gamer.
The cushions are solid and infused with memory foam to make sure that you are always in your rightful place when you play. One minor drawback here is that you will probably take a little while to assemble the massive chair yourself, but once you do, you will have an irreplaceable gaming chair.
The Vertagear brand is committed to bringing you unparalleled levels of ergonomic comfort and customization potential. Swivel, rotate and lean any which way you like as the Vertagear keeps you focused and firmly in your place.
---
7. SecretLab Omega

"This is the most comfortable gaming chair I have used."


Vu H.
"Brilliant chair easy to build and very, very comfortable."


Damien H.
"All the adjustable features make sure the chair is perfect for you and the don't feel cheap to move around."


Emily W.
| | |
| --- | --- |
| Foam Type | Cold Foam |
| Frame Construction | Steel |
| Recline | 90-135 degrees |
| Weight | 28kg |
| Warranty | 2 Years |
| Max Weight | 120kg |
The Titan Series may have stolen the thunder briefly there, but SecretLab has more than a single fantastic gaming chair you would want to consider. The Omega is geared towards slimmer gamers who don't' need as much room and are comfortable with less weighty gaming chair options.
The velour memory foam pillows and versatile tilt mechanism allows you to sink in the chair and let the memory foam sculpt the perfect form for your body. In the meantime, the Omega is a sturdy, well-made chair with a firm purchase and covered in premium materials.
The adjustable tilting and armrest mechanisms work without a snag, offering you to smoothly transition into one sitting position into another. The chair itself is covered with PU Leather 2.0 that resists wear and tear and with proper care, you can keep the newly-minted look of this excellent gaming chair for years to come.
The cold-cured foam is there to help you feel at ease even after a prolonged gaming session or two. Not least, the memory foam lumbar and head pillows add that little extra dash of comfort that you know you want and expect from a quality gaming chair.
---
8. Noblechair Epic Black Edition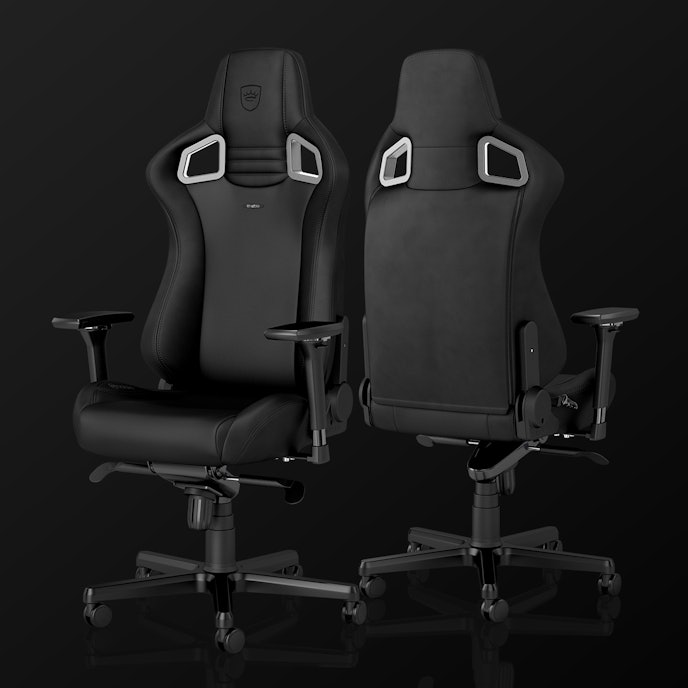 "The quality of these chairs surpasses all others"


Rory
"It is very comfortable and with the lumbar and neck cushions helps keep my posture upright."


Gary S Britton
"The quality of the chair is excellent and heavy duty I spent many hours gaming on this chair already and never once felt uncomfortable"


Luke W.
| | |
| --- | --- |
| Foam Type | Cold Foam |
| Frame Construction | Steel |
| Recline | 90-135 degrees |
| Weight | 28kg |
| Warranty | 2 Years |
| Max Weight | 120kg |
An already familiar brand to the dedicated gamer, the noblechairs Epic Black Edition has something to offer to offer the rookie and veteran gamer. With a comfortable racing seat to keep you focused, this noblechairs build is one of the best experiences you will get.
The unique upholstery comes with a new generation of breathable seating materials and adds fresh hybrid materials to top off the unique-to-the-touch feel. Once you take your seat, your entire body will want you to never try another chair.
Noblechairs has mixed both vinyl and polyurethane to ensure the comfort and slick look of the design, offering gamers a chair that has an ultra-soft surface and yet remains durable and can last you for years to come.
The stainless-steel grips and solid wheelbase will make sure that you never feel off-balance when seated in this portable gaming throne. The aluminum base offers a robust experience and the upholstery is imbued with cold foam to keep you pleasantly acclimatized.
Perhaps the only thing that might bother you here is that the chair only supports individuals up to 264 pounds or 120 kilograms. A pretty flexible weight range nevertheless.
A glorious choice for all-nighters and regular gaming sessions.
---
9. noblechairs Hero

"Once built the Hero is a big, imposing and extremely nice-looking chair, but the looks are definitely secondary to the comfort and usability,"


A.M. Bellis
"The build quality of this chair is amazing."


Ahmed Patel
"Great finish, fantastic support all around, makes you sit straight (maybe a bit painful at first) and it looks fantastic. Money well spent."


LukaszX
| | |
| --- | --- |
| Foam Type | Cold Foam |
| Frame Construction | Steel |
| Recline | 90-125 degrees |
| Weight | 30kg |
| Warranty | 2 Years |
| Max Weight | 150kg |
Noblechairs Hero is a product purely focused on keeping your back in good shape. While noblechairs has a mission to maximize the fun you get out of gaming, the brand is equally dedicated to provide you with a comfortable seating experience – one you can enjoy independent of your gaming sessions.
And so, the Hero is a chair that offers great lumbar support to even the sturdier and bigger-framed gamers. The cushions are luxurious and very soft to the touch, allowing your body to sink in and adjust itself in the form.
Once again, you will have a shot at adjusting and customizing your chair before it is even shipped to you, making it possible to add character to the product you receive in the end.
The gaming chair will have no trouble supporting anyone weighing up to 330 pounds or 149 kilograms and once again, the steel frames guarantee that extra level of durability that you look from a gaming equipment, especially when the investment is more substantial.
Other perks of the product include the 4D customizable armrests, adjustable backrest, rocking mechanism and of course the fully ergonomic shape.
---
10. OMF Essential Racing Chair ESS 3085
"Perfect gaming chair. Lifting arms means I can tuck the chair deeper under the desk when playing VR."


Aaron
"Very nice to sit in and looks great too!"


Heybemo
"Assembly was quick and easy. Arrived faster than expected. Very comfortable and sturdy."


Joshua
| | |
| --- | --- |
| Foam Type | Cold Foam |
| Frame Construction | Steel |
| Recline | 85-165 degrees |
| Weight | 14kg |
| Warranty | Limited Lifetime Warranty |
| Max Weight | 150kg |
With a name that perhaps has one too many numbers in it, the OMF Essential Racing Chair is a good purchase and an opportunity to boost the quality of your gaming sessions. This is definitely a budget choice, but the question is whether a gaming chair under $100 to really provide you with the quality experience you deserve.
Let's start at the design, which is neat, comes with the quintessentially showy coolers, but nevertheless an inviting overall look. You can take sit in the OMF Essential Racing chair and feel right at home.
The chair is sculpted to specifically make for a comfortable ergonomic experience and allow your body to adjust in the seat without the need to shift around or distract yourself from the gaming experience itself. Just to make sure, OMF has infused the upholstery with enough plush and ensured that the materials are breathable to guarantee you a crispy fresh experience every time you return for an intense gaming session.
In terms of specifics, the chair can support individuals up to 275 pounds, offers a lumbar pillow and neck pillow and allows you to adjust and tilt your armrests as you see fit. The tilt ranges between 85 and 165 degrees giving you enough wriggle room to fool around with the settings.
Good entry-level gaming chair at a fantastic price.
Summary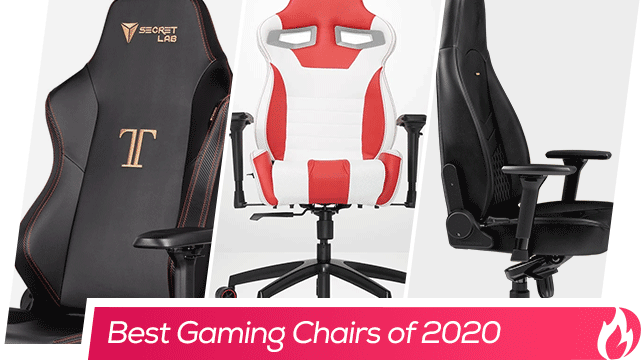 Article Name
The 10 Best Gaming Chairs of 2020 for Serious Gamers
Description
See my list for the best gaming chairs of 2020 for not only the casuals but especially the serious gamers punching in dozens of hours a week on the chair.
Author
Publisher Name
Publisher Logo